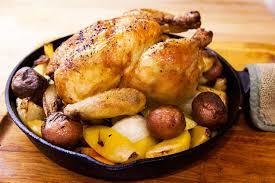 Chicken - Whole
SKU 00028
Product Details
Pickup/Delivery Options
You can pick up your order at our farm store near Ethridge, Tennessee or at one of our pre-arranged pickup locations. Call for local delivery!
Our pastured Non-GMO chicken, raised on pasture and moved daily during Spring, Summer and Fall so you can be sure your chicken has the best nutrition available!
"Pastured chickens get to eat bugs, a host of different forage components from grasses, to clovers to forbs (A forb (sometimes spelled phorb) is a herbaceous flowering plant that is not a graminoid (grasses, sedges and rushes). The term is used in biology and in vegetation ecology, especially in relation to grasslands and understory and greatly complex their diet versus birds in factory confinement. We enjoy chicken with a much more diverse blend of diet than the industrial bird. It means that you get a much more diversified food base through our chicken than factory chicken, organic or otherwise (most organic is still factory housed and never sees outside)." ~Joel Salatin

"When chickens move around on pasture, they ingest fresh green grasses, weeds, seeds, ants, flies, moths, beetles, grasshoppers and just about anything else they can. The green grasses provide antioxidants like beta carotene and change the fatty acid profile of the chicken meat, skin, and fat (for the better!). The chickens become part of the ecosystem by eating from their surroundings, which reduces the feed required to bring them to finished weight, promoting a more sustainable agriculture.

We compared our pasture-raised birds to the standard reference values given by the USDA National Nutrient Database (updated in 2018). Here's is a summary of the nutritional content of the breast and thigh meat (with skin) that we had analyzed. Compared to the USDA standard values, our pastured-raised broilers on average had:
300% higher vitamin E content,
a 68% decrease in total fat as well as a 63% decrease in saturated fat,
a 64% decrease in omega-6 to omega-3 ratio (5.4 to 1, compared to 14.8 to 1 for the standard values)" ~Minnesota Dept of Ag
Save this product for later