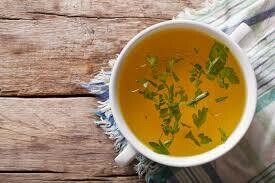 Chicken Broth - 32 oz.
SKU 02381
Product Details
Bone Broth (stock) is a traditional food that's been used for hundreds of years for a flavorful, nutrient-dense soup base, cooking aid, or standalone drink. Our broth comes packed in 32 oz BPA-Free bowls and is ready to use or drink.
We are so excited to offer you this broth made from Taylor Family Farm pasture raised chicken bones, prepared by our friend Jay Zubov at The Broth Stop in Nashville. It's made with bones (that he roasts until brown), feet (they are so high in collagen), filtered water, and Bragg organic apple cider vinegar. Simmered for 30 hours to ensure every nutrient is gotten. Good for what ails you!
READY TO USE - USE CONTAINER WITHIN 30 DAYS.
Save this product for later