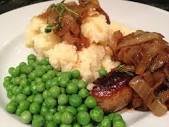 Irish Banger Sausage Links
SKU 00140
Product Details
Courtesy of www.thespruce.com
Bangers and Mash is the familiar term for Sausage and Mash, a favorite British and Irish dish. The name bangers is believed to come from the habit of sausages bursting in the pan with a bang if cooked too quickly.
Bangers and Mash is quick and easy to make, and also makes a cheap yet very substantial meal. A great favorite with children.
Where once it was only possible to buy beef or pork sausages, there are now many different flavors available, from spicy through to fruity.
Serves 4
2 tbsp olive oil or pastured lard
8 Taylor Family Farm Irish Banger sausages
For the mash:
2 lbs potatoes (900g), peeled and quartered
6 tbsp milk
1 stick butter (110g), cubed
Salt and ground black pepper
For the onion gravy:
2 medium onions, peeled and thinly sliced
4 tbsp butter
1 tsp balsamic vinegar
1 ¼ pint (700ml) beef stock
4 tsp Non-GMO corn starch
4 tsp cold water
Salt and ground black pepper
Start by Making the Onion Gravy
Melt the butter in a large saucepan over a gentle heat. Add the onion and cover with a lid. Cook slowly for approx 10 mins or until the onions are soft.
Add the sugar and balsamic vinegar to the onions and stir well. Cover with the lid and continue to cook for a further 5 minutes.
Add the stock and boil gently uncovered for 5 minutes.
In a heatproof jug or bowl mix the corn starch with the cold water to a thin paste. Pour a little of the hot gravy into the starch mixture and mix thoroughly. Pour the starch mixture back into the gravy, raise the heat to high and boil for 10 minutes or until the gravy is slightly thickened. Keep warm until ready to serve
Cook the Potatoes
Meanwhile, start the mashed potato by boiling the potatoes in lightly salted water until soft. Drain, and keep warm until ready to mash.
While the potatoes are cooking cook the sausages.
Cook the Sausages
Heat the oil in a large frying pan, turn the heat to medium and add the sausages. Fry until the sausages are golden brown and firm, turning them from time to time - about 20 minutes. Once cooked place in an ovenproof dish and keep warm until the mash and gravy are ready.
Finish the mash by placing the milk and butter in the pan used to boil the potatoes, return to the heat and warm gently until the butter has melted.
Add the potatoes and mash using either a potato masher, a fork or a potato ricer. Whip the mashed potato lightly with a wooden spoon. Season with salt and pepper.
To Serve: Spoon the mash onto 4 warmed dinner plates, place two fat sausages on top of the mash with the gravy poured over.
Save this product for later