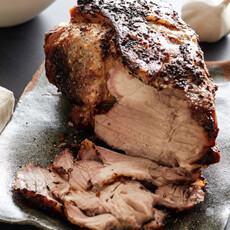 Shoulder Roast
SKU 1127
Product Details
Shoulder Roast.: Great to cook as you would any roast. It picks up the flavor of the seasoning you put on it and is also great to smoke and have for BBQ!

This round of pork is some we bought from a friend. He raises his pigs ethically, without hormones/antibiotics,

outside in the sunshine with fresh air and water. He does however feed conventionally, so we can't say that it's non-gmo.
It is better than what you can get at the grocery because it isn't CAFO. We did
want something to offer you all in case you didn't have farm fresh options elsewhere. And this is at a little savings from
our farm raised pork, which may help at this time as well. Our own pork products will be back in stock in a few weeks!
Save this product for later